A modern curbless shower design - is it worth the effort?
Publication date:
|
Update date:
A shower stall is an obligatory equipment of every modern and functional bathroom. Apart from traditional solutions with shower base, there are also more innovative showers. They might greatly improve the aesthetics of the room. A curbless shower is the latest trend of the season. What are the advantages of such a solution?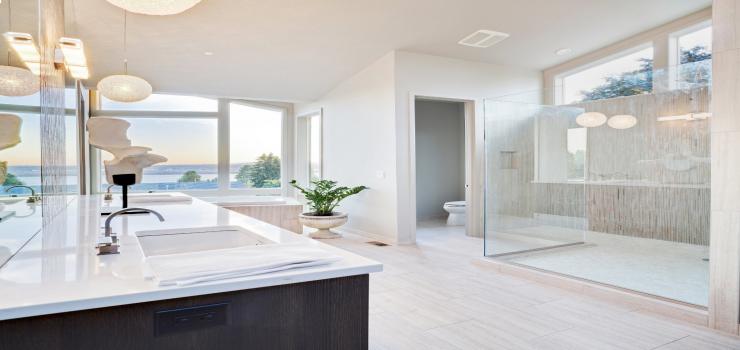 Curbless shower - a perfect solution for small bathrooms

Many homeowners claim that a curbless shower creates an impression of more space, which is very important for small bathrooms. It is particularly noticeable if a walk-in type shower is installed instead of a standard stall.

Interior design experts stress that it is not just an impression, but a confirmed fact. A curbless shower simply takes less space and is not as limiting as standard solutions.

A curbless shower is sometimes referred to as linear shower. The name is derived from the linear drain used in this type of showers.
What is a linear drain?

Linear drain is a type of drainage in the form of a long slit in the floor. It's simply an extension of a standard central drain. It can be installed in the middle of the shower pan, by the wall and at any spot - there are no limitations in this case.

A curbless shower with this type of drain creates a lot of possibilities for interior design, as it takes little space and can be located anywhere the user wants. Furthermore, one might choose between a classic linear drain with a simple design and a linear drain decorated with unusual carvings.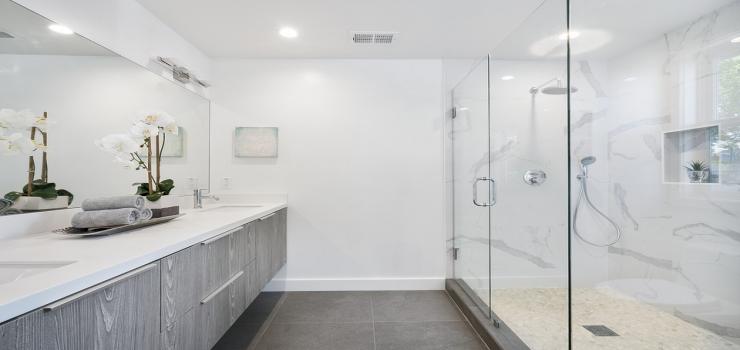 Is a curbless shower safe for the bathroom?

A curbless shower is a very practical solution; what's more, it's completely harmless for the bathroom, so one does not have to worry about a possibility of flooding.

If you decide on a curbless shower, however, you need to use the right waterproofing products and an appropriate tile mortar. Thanks to this, the curbless shower system is safe for the room.

Today, the market offers sealants and grouting of higher waterproofing parameters, thanks to which the showering zone will be safe for long years. Apart from the standard drain protection, manufacturers also offer sealing materials such as liquid membrane and seals. In case of an emergency, one can buy sealing materials separately.
How much does a curbless shower cost?

The cost of a curbless shower installation depends on its characteristics, construction and many other factors. The price of linear drainage, shower stall or door, shower panel and the installation also contribute to the full cost.

The price of the equipment also depends on the manufacturer and the material it has been made of. The installation costs are adjusted individually by the specialist you hire and it might depend on the region you live in.
A curbless shower - cheaper than standard bathroom equipment?

Curbless shower stalls are offered by many manufacturers. But the lack of the base doesn't necessarily mean that the cost of the shower zone at home is lower. There is an option one can choose when buying a shower - full shower stalls with tempered glass walls. They are typically covered with an "easy clean" layer, which makes cleaning quicker and prevents lime scale accumulation.

You might get such walls in a very low price, although there are also very expensive models. The price range of shower doors is similar.

Another solution is a walk in shower stall which has only one or two walls. It might be a cheaper solution, but as always - it all depends on the manufacturer, material and particular model. Typically, a higher price means also a higher level of comfort and aesthetics of the shower.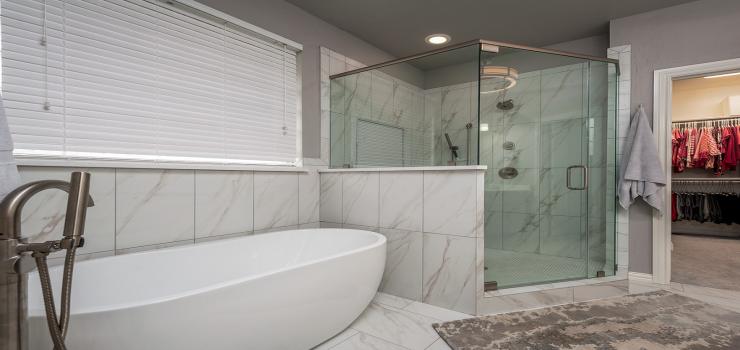 What are the advantages of a curbless shower

A curbless shower system has many benefits. Therefore, this solution becomes an increasingly popular among homeowners and their bathrooms.

Why is a curbless shower stall worth considering? First of all:
it takes much less space, so there are more design possibilities for the interior, as every corner and niche in the bathroom is used; it's impossible with classic shower stalls,
it looks great - so it's a perfect choice for those who value modern solutions and unusual aesthetics; it limits the risk of a dangerous situation, as there is no curb which might cause an accident,
it is relatively easy to install - if you have certain basic skills, you could try to install a curbless shower without a specialist.
A functional curbless shower - choose the right accessories

A good-looking curbless shower is not just a matter of getting rid of the base or choosing a stall made of the right material. Additional accessories, which catch more attention than in a standard shower, are also highly important.

A high-quality shower panel is the absolute essential in this case. You might choose a classic shower set - it is universal and always works well. There is also another, quite an interesting option - a modern panel with a thermostat, of a solid construction and unusual appearance. The first option is obviously much cheaper. You have to pay more for better, technologically advanced panels.

You don't want to pay too much for the shower accessories? Choose an ordinary rainshower shower head. It looks very elegant and is quite cheap.

A curbless shower looks fashionable, matches almost every bathroom design and most importantly - it is highly practical. It is the main reason why a curbless shower appears in many houses and apartments.

FAQ
A curbless shower - what is the recommended size?
A curbless shower can have various dimensions - to match your bathroom design. It's a perfect solution for anyone who loves unusual solutions or needs a shower of a non-standard size e.g. due to little space in the room. It's also a good option for those who have a lot of space and dream of comfort and no limitations.