Modern kitchen design - which kitchen faucet is the best for you?
Publication date:
|
Update date:
Are you planning to finish your house? You don't have any idea on how to design your kitchen? Many homeowners choose modern kitchen designs - both minimalistic and rich in very interesting accessories. Kitchen projects might look completely different - even if similar accessories are used. What is the obligatory element to use in each kitchen? First and foremost - kitchen faucets.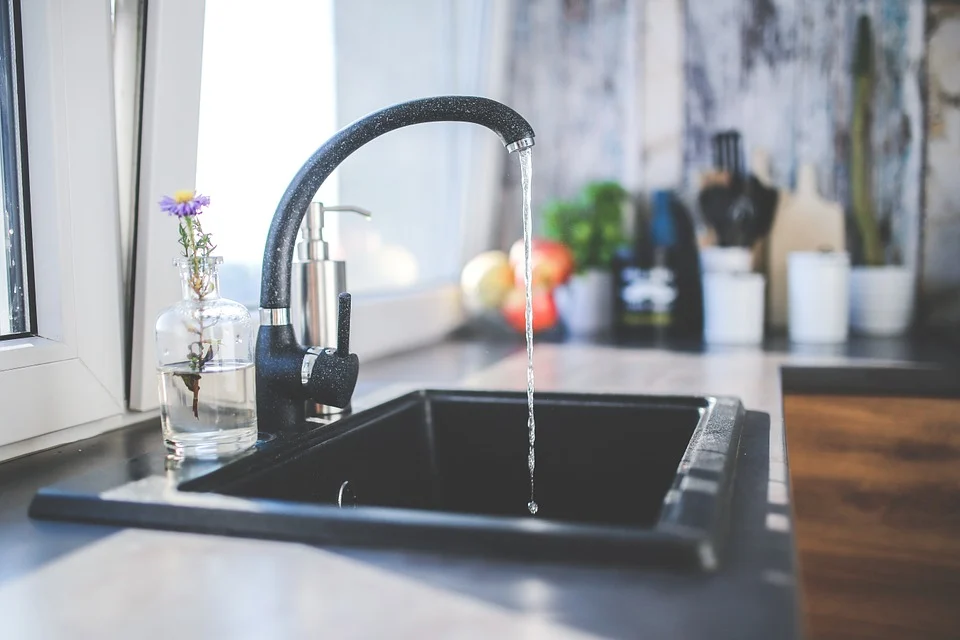 Kitchen equipment - how to choose the best kitchen accessories?

The market offers a wide variety of different kitchen faucets. They differ in size, thread, functions and, most importantly, appearance. Keep in mind that apart from the basic functionalities, kitchen equipment, fixtures and fittings play a huge role in the design of the room. Modern faucets for kitchens should perfectly match the interior decor style, as well as your individual needs. When choosing kitchen accessories, it is good to check the latest trends.
Modern kitchen faucets - pay attention to the method of installation

Do modern kitchens use only unusual shaped sink faucets? Not necessarily! As you might have noticed, classic kitchen fittings are still popular. It is particularly useful if you decide on a particular kitchen design - such as retro. If you're wondering how to choose a kitchen faucet for this and other styles, you have two options. You can pick between a wall-mount and deck-mount kitchen faucet. What are the characteristic features and benefits of such equipment? How is it implemented in modern kitchens?
A wall-mount kitchen faucet

Wall-mount faucets can be installed only if the pipes delivering the water are placed above the sink. Taps like this usually have two handles. Another type - kitchen faucets with X-shaped handles have been quite popular recently. Are such kitchen accessories still suitable for classically designed interiors? A wall-mount faucet can help you preserve a classical spirit and at the same time introduce a hint of originality. Wall-mount fittings look best in traditional interiors. They are also often installed in modern kitchens furnished in the retro style, where one can use faucets fashioned to look like in the thirties.
Deck-mount faucets

Deck-mounted faucets can be installed when the pipes run below the level of the sanitary fittings. One-handle sink faucets are the classic representatives of this group. How to use them in modern kitchens? Faucets like this are perfect for designs with a kitchen island or sinks installed by the window.
How to design a kitchen? Choose the right kitchen faucet spout

A modern kitchen should be, first and foremost, functional. This criterion is determined by equipment like a kitchen faucet, specifically - its spout. Standard, fixed elements are becoming increasingly obsolete. Recently, more unusual kitchen accessories have become a more general choice.

What to pay attention to when picking kitchen equipment of this type - how to choose a good kitchen faucet? As stated by many manufacturers, the best kitchen spout should perfectly match the particular needs of the user. A carefully chosen product can make one's life easier and simplify everyday tasks. The market offers kitchen faucets with three types of spouts to choose from: pull-out, flexible and rotating.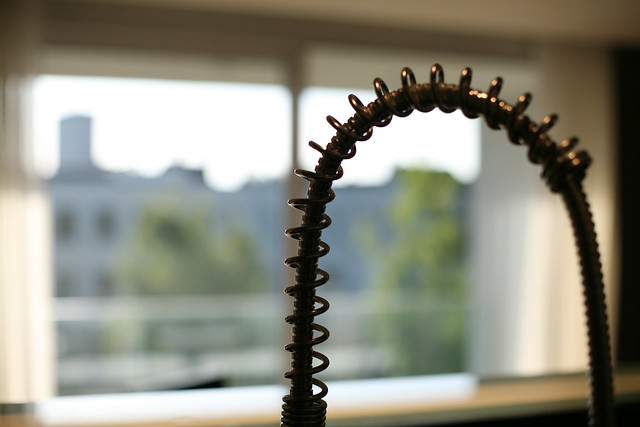 A pull-out faucet

Recent trends in modern kitchens design have been incorporating interesting choices with regards to kitchen faucets. One of them - a telescopic pull-out faucet placed under a window. It's a highly functional kitchen appliance. Such a model can be installed both by a single bowl, as well as double bowl sink.

A pull-out spout allows to fill each, even the largest pot, reach every corner of the sink when cleaning, thoroughly rinse food, fill a bucket with water without the need to put it in the sink. Most of the kitchen faucets with a pull-out spout have two options for the stream pattern. The water can be focused or sprayed. The spouts can also have water-saving functions and be equipped with aerators.
A flexible kitchen faucet

Similar to a pull-out spot faucet, flexible fittings allow to lead the water stream directly where you want to, and fill high pots and dishes with water. Apart from being functional - which is the most important feature in the kitchen, faucets with a flexible spout also look amazing.

Flexible spouts are often available in unusual colours. It's a perfect opportunity for modern kitchens. There are also models in plain, neutral colours: black and white, which can make the kitchen look classy and elegant. The biggest advantage of flexible spouts, however, is the fact that they can be adjusted to any shape fitting one's individual taste. Those appliances are flexible enough to create your own, unique form.
A kitchen faucet spout - fixed or rotating?

Fixed spout faucets belong to the most basic kitchen appliances. They are typically classic and plain looking. Their functionality, however, is much worse than pull-out or flexible faucets. A rotating faucet might be a good compromise between the two options. The biggest advantage, in this case, is the lower cost of the simplest models. Nevertheless, they are rarely used in modern kitchens.
Modern kitchens - a good quality material of a faucet is essential

A kitchen faucet is usually placed in a visible place, therefore, it is recommended to choose an eye-pleasing element which will complement the room design.

There are many faucets made of various materials available on the market. Brass is one of the most popular metals used in modern kitchens. It is resistant to physical damage, corrosion, chemicals and scale residues. Apart from the durability, faucets made of brass keep an elegant and flawless look for long years.

There are also very interesting substitutes available on the market, equipped with plastic parts. Although they are not always as impressive as brass elements. Nevertheless, they are quite durable, and every modern kitchen which uses them will look very interesting.

In most cases, kitchen faucets are covered with a layer of chrome, which makes them look stylish and provides additional protection. This type of kitchen equipment is perfect for every style of interior design. Even if you eventually get bored with your modern kitchen and change the decor - the faucet will always fit the interior.
Modern kitchens - what besides chrome?

Kitchen faucets in various colors are a good alternative for shiny chrome elements. They can be easily fitted to the colour of the furniture, walls or other fixtures, fittings and appliances in the room.

Black kitchen faucets have been a very popular choice recently. This colour works perfectly for modern kitchens, as well as industrial style interiors. Black kitchen accessories are very universal, thanks to which they can be used in most spaces. A delicate, white kitchen faucet, on the other hand, is perfect for a Scandinavian or traditional English style interior design.
Kitchen equipment - choose modern technology

When choosing a faucet, think about the way it going to be used. You can find traditional single and double handle kitchen faucets on the market, as well as more innovative and practical solutions. The latter involves a touchless faucet. It's a truly groundbreaking kitchen equipment. It is triggered by an infrared sensor, which detects the movement of a hand or a dish being put close to it. The biggest benefits of such a tap are: the highest level of hygiene, thermal disinfection, easy and quick installation, and a modern design. A touchless faucet is a perfect option for anyone who loves the idea of combining the highest functionality level and a fashionable appearance. Such solutions are becoming increasingly popular in modern kitchens.
Kitchen accessories - functionality above all

Most of the contemporary kitchen faucets use specially designed filters that purify the water from bacteria and toxic substances. It's an absolute essential for any modern kitchen design. A faucet with a water filter is highly recommended for everyone who values safety and hygiene.

Another useful feature often used in kitchen faucets is a water heater. It is an appliance thanks to which one doesn't have to worry about warm water anymore.

Modern kitchens design combine functionality and aesthetics. Furthermore, modern technologies used in a kitchen equipment can help decrease the water consumption. For this reason, it is good to follow inspirations published by experts - thanks to them you can create a perfect kitchen.

FAQ
What kitchen faucet to choose?
When choosing a kitchen faucet, you can decide between a wall- or deck-mount models. The first one is perfect if the piping is located above the sink. A deck-mount kitchen faucet is a perfect option for modern kitchens - great for a sink on an island or by the window.