Why should you have a bidet for your bathroom and how to install it?
Publication date:
|
Update date:
Furnishing the bathroom is a real challenge. A modern design should connect both functionality and aesthetics. Manufacturers offer a range of solutions which improve the convenience of the room, and at the same time might also serve as a decoration. A bidet is one of them. Using the modern equipment can significantly improve one's personal hygiene level, therefore, such elements are becoming increasingly popular.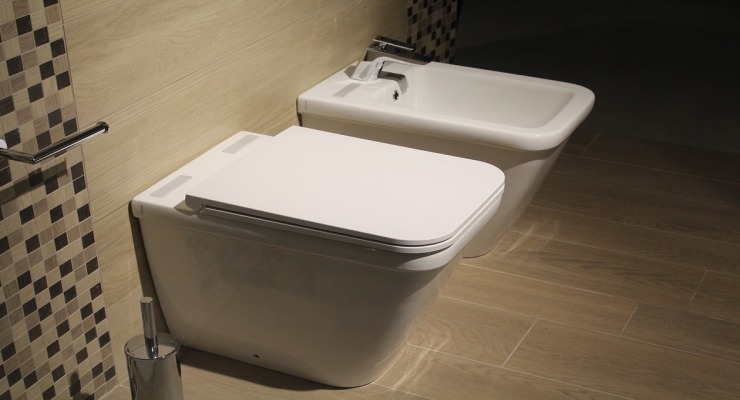 What is a bidet? Why is it useful in the bathroom?

A bidet is one of the bathroom facilities. It is made of ceramic, and its purpose is washing yourself after using the toilet. Thanks to it, it is possible to wash intimate areas in a sitting position without the need to use a bath tub or shower.

A bidet allows you to take care of personal hygiene in an easy and quick way. It is also an ideal solution for the elderly with reduced mobility, pregnant women and people suffering from an inflammation of intimate parts. Bidets are becoming standard equipment in every modern bathroom. It allows you to maintain maximum cleanliness, without having to bathe several times a day, which is very convenient.

It resembles a toilet bowl or a bathroom sink. Floor-mount bidets are the most popular, however, it is not the only option. There are also wall-mount models available on the market, and they are gaining popularity. The element works just like a sink.

A bidet is connected with the water system in the same way as any type of sink.

Floor- and wall-mount bidets might differ by:
Bidet - what are its elements?

As a standard, bidets have an overflow which protects the room from flooding. A bidet faucet should have: a drain shaped upwards and a movable spout allowing for directing the flow upwards.

An elegant, chrome trap can be installed by the bidet, which will add some elegance to the interior. If you want to save on water when using the equipment - you should consider adding an aerator to the bidet.
How to use a bidet? Is it difficult?

It is very easy to use a bidet - it should be unproblematic both for the young and elderly. One can sit on it either backwards or facing the faucet. The latter option is definitely more comfortable. This way, one can easily regulate the water flow and temperature.
Where to install a bidet in the bathroom?

Depending whether you chose a floor-mount or wall-mount bidet, you can install it at those two locations. When choosing the right spot, keep the right distance from the rest of the sanitary equipment. Why? The position one has to get into is the main reason. A correct arrangement of the equipment greatly affects the functionality and convenience of using the washing facilities.

The minimal distance between the toiler and a bidet is around 30 cm. The space between the sink and the bidet should also be no less than 30 cm.

If the bidet is located by the wall, it is recommended to place it approximately 30-40 cm apart from the wall. It is important to keep the right amount of space in front of the bidet. For the best convenience, keep around 60 cm of free space in front of the element.
How to install a bidet? Is it difficult?

A bidet installation looks the same as with any other bathroom equipment - and it can be done very quickly.

Both floor- and wall-mount bidet must be connected with cold and hot water. Creating a horizontal branch is highly important. Hanging bowls are attached to the wall by special screws or a concealed cistern frame. If the bidet is floor-mount, one has to use stainless screws, so that the element is durable and resistant to moisture and water.

After the ceramic part is installed, the drain trap and faucet need to be attached. Without those elements, the bidet cannot properly work. The faucet has to be connected with cold and hot water using special hoses.
How much does a bidet cost?

A bidet might be relatively cheap or very expensive - it all depends on the particular model, the size, functions, the manufacturer and also the colour.

Classic, small white models are usually available to purchase for a low price. However, if you want additional accessories, a different shape - e.g. square, or a black colour, you need to be prepared to pay more for the bidet.
Is it a good idea to install a bidet in a small bathroom?

A bidet in a small bathroom is a very good idea - provided that it has been well planned and the model fits the available space.

The first thing you should pay attention to is the already mentioned space between the other elements in the bathroom - minimum 30 cm. Furthermore, the size of the element shouldn't be too large. Fortunately, the producers have adjusted their offers to the market needs. Thanks to this, a purchase of a small bidet for a small bathroom is not a problem at all.
What to use instead of a bidet?

Have you analysed all the information and decided that you don't have enough space for a bidet? It does not mean that you cannot use similar solutions. A special washing toilet seat might be a perfect option in this case, with a modern bidet faucet. It is installed directly onto the toilet bowl. The most innovative models have heating and drying functions. It's something for real fans of modern technology.

Keep in mind that such a toilet seat with a bidet functionality might be quite expensive.

A decision to purchase a bidet might make your everyday life much more convenient and increase hygiene, which in the long run contributes to one's health. That's why such a bathroom facility is an investemnt which is definitely worth considering.

FAQ
What is a bidet?
A bidet is a part of the sanitary equipment in a bathroom. It's used for washing your intimate parts after using the toilet, so there is not need to use toilet paper. It helps to care for personal hygiene quickly and easily.
How to use a bidet?
Using a bidet is very easy - the element resembles a toilet bowl. Just sit on it - frontwards or backwards and turn the water stream on.
How to install a bidet?
Bidet installation looks similar as attaching a toilet bowl. In this case, a lot depends on the model - standing or wall-mounted. Usually, the manufacturer attaches a manual to the product. Some homeowners prefer to have the bidet installation done by a specialist.