How to make a bathtub frame? Skirted bathtub - 2020 trends
Publication date:
|
Update date:
Can't you imagine an everyday bath without a bathtub? It's a standard bathroom equipment used for many years. Manufacturers offer a wide range of bathtub models, shapes and colours. Despite the modern design of this kind of equipment, a skirted bathtub is a must for many homeowners. Why? A bathtub might look very elegant - contrasting with the space underneath (unless it's a freestanding tub). To conceal the ugly bottom, drain and piping system, you might decide to install a tub skirt.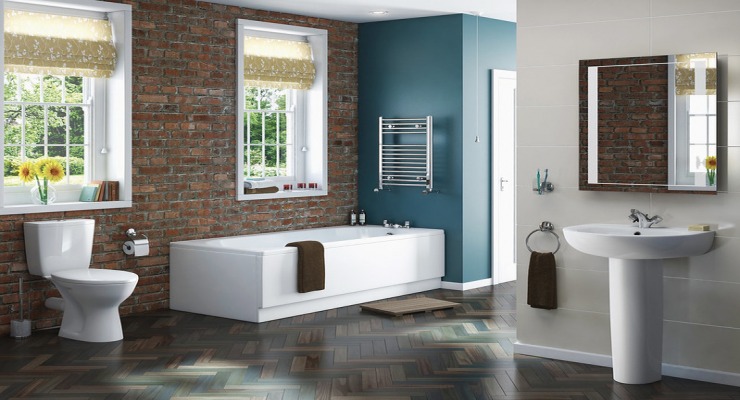 How to make a bathtub frame? The basis for further work

Before you can make a skirted bathtub, you have to create a frame, which will allow you for further work. The most popular options include:
Skirted bathtub made from plaster boards - this type of material has to be installed on a special frame. It's durable and easy to install. Because it's lightweight, the further works on the skirted bathtub are quite easy. Plasterboard is water-resistant - it's a very important feature, which might prevent damage. Are you concerned about crevasses that might appear during installation? You can fill them with a special adhesive, which will seal the whole construction.
Concrete bathtub skirt - it's one of the most solid and most common options. This type of bathtub frame is made of concrete blocks. They are easy to form - thanks to this, you can create a construction of any shape.
Styrofoam frame - a styrofoam bathtub frame is quite durable. It stabilizes the tub and muffles the sounds when pouring water into the tub. Such products can be used for round and rectangular tubs. It's very easy to install them - one might use a special styrofoam glue, which is very quick to work with.
Essential accessories - a well-made skirted bathtub

Depending on the type of your skirted bathtub, you are going to need different accessories for installation. There are, however, certain universal tools, which are essential for any type of installation. They are:
tape measure,
level,
pencil,
screws,
plugs,
sanitary silicone,
silicone gun,
tile mortar,
straight trowel,
plastering trowel.
Additionally, if you are interested in plasterboards, you are going to need metal C and U tracks, wooden slats, power drill and scissors. If your are making a bathtub frame from concrete blocks, you need thinset mortar or concrete adhesive, liquid membrane, a fine and coarse file and basic masonry tools.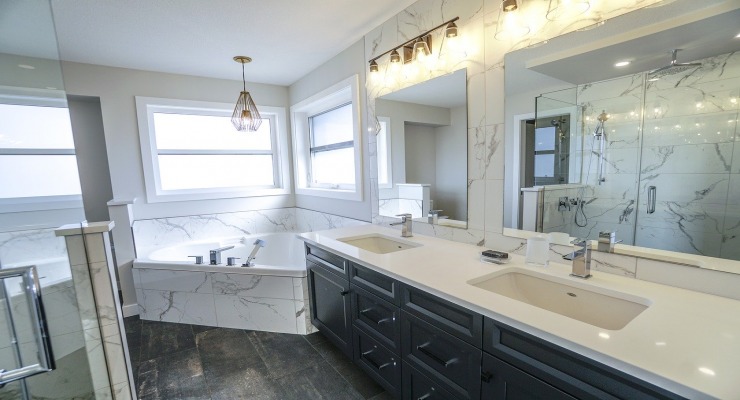 A skirted bathtub - a step-by-step installation guide

If you want to install a skirted bathtub yourself - you should follow specialists' tips. Look at the 8 steps below - they will help you with your work.
First, you need to place the bathtub at the spot it is going to be installed. To do this, use its legs for stabilization.
The next step is connecting the drain with the water system. When doing it, pay special attention to where the drain is located. The skirted bathtub has to include an access eye to provide an easy entrance to the drain.
The third thing you have to do is mark an outline of the bathtub on the floor. Marking the installation spots is easy for rectangular models. Just put a level on each of the four ends of the tub and mark them using a pencil. If you want a round skirted tub, the outline looks very similar - just place the level every few centimeters along the curve.
Making a durable and solid bathtub frame is one of the most important steps. The construction has to contain as many parts as the sides you are going to cover. You can choose one of the three options mentioned before.
The next step involves fitting and installing the construction elements. Make sure they are water-resistant. You can cover the surface with a priming product, paint or so-called liquid membrane - they protect against moisture.
Access eyes - it's another important element which cannot be omitted when making a skirted bathtub. They allow you to access the drain pipes and traps. An access eye should be at leat 200x200 mm large.
Finishing - now you can install ceramic tiles or other materials.
The last step is sealing the bathtub with silicone.
A skirted bathtub and access eyes

Access eyes allow you to reach the insides of the skirted bathtub quickly and easily - e.g. in case of a malfunction. Thanks to them, the user can access elements such as:
water meters,
heat meters,
bathtub drain traps,
valves,
filters.
The hole should be large enough to manoeuver the tools easily. Do not forget about it because in case of a malfunction and lack of any access eyes - the bathtub skirt might get damaged.
Skirted bathtub - the most popular trends 2020

Are you wondering how to make a bathtub skirt? Are you looking for ideas on how to renovate your bathroom? There are many solutions on the market. Pay attention to the most popular 2020 trends, so that your interior is always up to date. By using a seemingly insignificant skirted bathtub, you might achieve a completely different result. Keep in mind that a manufactured bathtub skirt, also known as a universal one, is out of fashion. It might have been quick and easy to install, however the aesthetics weren't the best. It has been replaced with much better-looking solutions.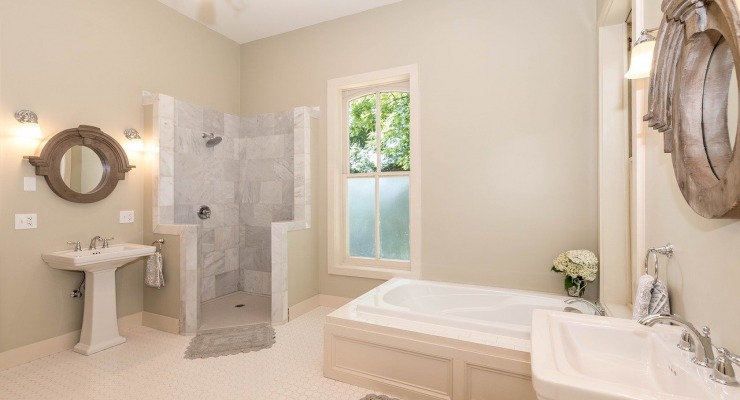 A bathtub skirt - perfectly matching the ceramic elements and fittings

One can find bathtub skirts in colours matching the tubs and made of the same materials. Thanks to this, they can fit any type of ceramics and bathroom fittings. If you are designing your bathroom in glamour style, you might choose a combination of white and gold. The bathtub skirt is going to look very elegant in such a combination. Marble is also making a come-back. You might use this theme for your skirted bathtub.
Wooden bathtub skirt - always trendy

Do you like Scandinavian style? Or perhaps you are interested in biophilic design? A wooden skirted bathroom might be perfect for you. Just put finishing materials of your choice over the bathtub frame you've constructed.
Glass bathtub skirt - innovative minimalism

Do you like simple forms and at the same time you hate dullness? A bathtub skirt made of glass might be a fantastic idea. This type of construction, however, has to be made by a specialist. It requires great precision and knowledge about installation. It might be impossible to install it by yourself.
Bathtub skirt for a rectangular, corner or irregularly shaped tub

There are two alternatives for each of the mentioned options. Manufacturers often offer ready-to-buy bathtub skirts. They work, however, for standard sizes. What if the height and width of the bathtub are different? There is a second option - bathtub skirt made by a professional.

Unlike the ready-to-install models available in shops, a skirt for a non-standard bathtub requires more work. But the result you might achieve is breathtaking. There are many materials available on the market, in various colours, shapes and patterns. If you decide to install them, your bathroom will earn a unusual, stylish look. Provided that the specialist you hire knows how to make a skirted bathtub.
A modern bathtub skirt - LED technology

LED lighting is the latest, often seen in modern bathroom trends used for skirted bathtubs as well. It creates an unremarkable atmosphere in the room and makes using the tub is much more pleasant. Bathing with such a lighting is relaxing and pleasant. A bathtub skirt with LED lighting is not very time-consuming, but hiring a specialist is worth considering in this case.

Do you want to have a modern-looking interior that follows the latest trends? Choose the most stylish designs. Use our ideas and transform your interior.

FAQ
What is a bathtub skirt? Why installing it?
A bathtub frame mostly affects the visual outcome of the bathroom finish. The whole construction looks much better. Depending on the tub shape and size, a frame might also increase the stability of the equipment.